Dog enrichment toys made by West Paw USA are some of the best food puzzle toys available. The plastic is non-toxic and pet safe, they are also dishwasher safe so very easy to clean, and they come in an array of cute colours, from turquoise, to apple green, orange and their new jewel range. West Paw also have a 'love it guarantee' and will upgrade you to a more appropriate toy should your dog be able to damage one of their enrichment toys.
West Paw receives less than 1% of its guaranteed tough dog toys back – and most customers request a free replacement over a refund!


Source: West Paw USA

I recommend clients use puzzle feeders or a dog enrichment toy to feed their dogs as they help to relieve boredom, raise the value of the food inside by making things more of a challenge, and give the dog something appropriate to chew on. For puppies you also get some peace and quiet while they are busy emptying the toy!
View the whole West Paw range on Amazon
First up is the West Paw Zogoflex Toppl, I will typically use something like lactose free soft cheese, honey or peanut butter to act as a glue and then add some of my dog's dry food. She then roots around in the feeder licking and chewing and rolling it around on the floor to get the food out.
***UPDATE 2023 you can now get an XL version. of this toy – perfect for bigger dogs!***
You can also slot a smaller Toppl into the larger one as in the picture below and use it as a treat or food ball.
The West Paw Zogoflex Tux is one of the most hard wearing of their range. It has a hole in the centre for you to put food in, and the nobbled bits encourage chewing.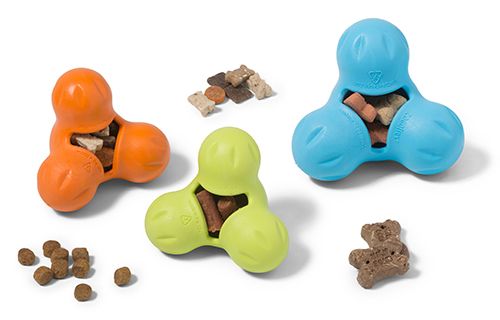 Lastly, we have the West Paw Zogoflex Qwizl. The Qwizl is designed to hold chews such as dental and bully sticks, to extend the life of them and also not allow your dog to break off and swallow large pieces – my dog tries to do this!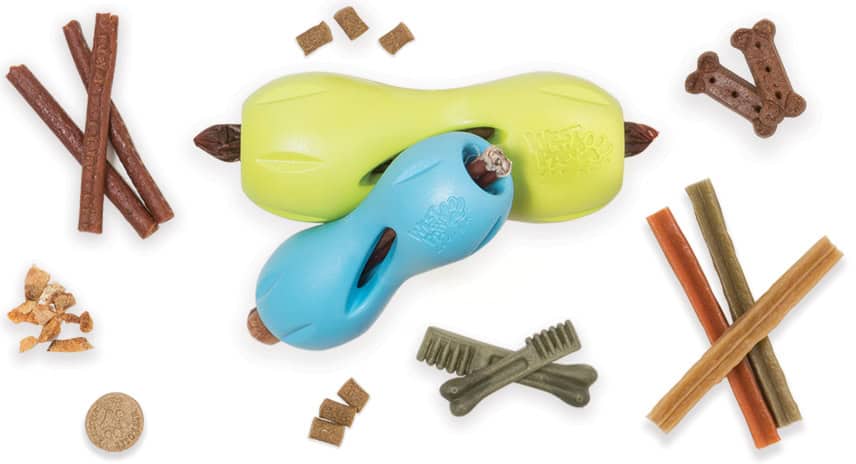 Want to learn more? Check out my dog separation anxiety help article.